There are two types of face cleansing: hardware (ultrasonic) or manual.
Immediately let's determine that manual cleaning is very harmful: when "picking" acne (acne) deforms the sebaceous gland, which further makes it impossible for its normal work, the conditions for the formation of a new pimple! In adolescents, this phenomenon is very common – "kovyryalkina disease. Therefore, we are only interested in ultrasound cleaning and electrocoagulation of large papulo-shaped acne (acne).
Diet for acne and problem skin.
Why do you need facial cleansing?
Ultrasonic facial cleansing refers to physiotherapy methods. Briefly: microcirculation improves, bacteria die, hyperkeratosis (unexploded dead cells of the epidermis) decreases.
As a result: improved complexion, clean pores, a feeling of freshness. With regular treatment, ultrasound cleaning is an excellent remedy for pimples! Electrocoagulation with a hair electrode is used to eliminate elements that are not devastated by ultrasound cleansing.
How to clean your face
If there are no skin diseases, the ultrasound facial cleansing procedure in the salon consists of the following steps:
Skin cleansing;
Use of a hydrating gel under the film – the effect of "cold" evaporation or the old-fashioned vaporizer is sometimes used (using steam);
Ultrasonic cleaning of the face itself;
Closing mask.
When performing ultrasonic cleaning in the salon uses professional cosmetics: hydrating gels, masks on the problem, various peelings.
If the skin is problematic, the combination of ultrasound cleaning with other methods of treatment is possible.
In acne (acne): cleansing, hydrogenation, ultrasound facial cleansing, electrocoagulation of acne, phototherapy (light of a certain wave kills bacteria), cryomassage (soothes the skin, increases local immunity, stops inflammatory elements), salicylic peeling (kills bacteria);
In hyperpigmentation: ultrasonic cleansing of the face completes the almond peeling;
In case of couperose: after the ultrasonic cleaning of the face, a special plant peel is applied to train vessels, and then an anticuperose mask with vitamin K is applied (removes redness after the procedure).
Combinations of ultrasound cleaning with other methods of treatment are a great variety. There is an option for each case. Peeling is done after the ultrasonic cleaning of the face, not before it. And peeling is not for everyone. The degree of penetration of the peeling is taken into account so that it did not fall to the basal membrane and did not cause severe and irreversible effects. Therefore, no amateurism!
Who can get a facial cleansing

For healthy skin cleansing is used to prevent problems, and for problem skin – to solve them! Absolute contraindication – herpetic rashes – ultrasound reading is carried out at least a week after exacerbation. Relative contraindication – pregnancy and lactation, but the soft parameters can be cleaned. Ultrasound face reading is usually started in adolescence, when the first acne appears.
Feelings during ultrasound reading are different for everyone, as here plays a role and the threshold of pain sensitivity, and the condition of the skin, and additional manipulations, and the period of the menstrual cycle (more tangible a few days before and immediately during menstruation), and even "light hand" doctor. Ultrasound itself does not give pain sensations.
But after a "deep" cleansing of the face, the doctor prescribes a concomitant therapy to prevent secondary infection, accelerate recovery. After ultrasound cleaning there are no allergic rashes, as salon products and cosmetics are hypoallergenic because of the high degree of cleaning. There should be no bruises either! The exception is very fragile vessels. Sometimes patients complain that their face itches. But this discomfort is more related to the application of peeling than to the ultrasonic facial cleansing itself.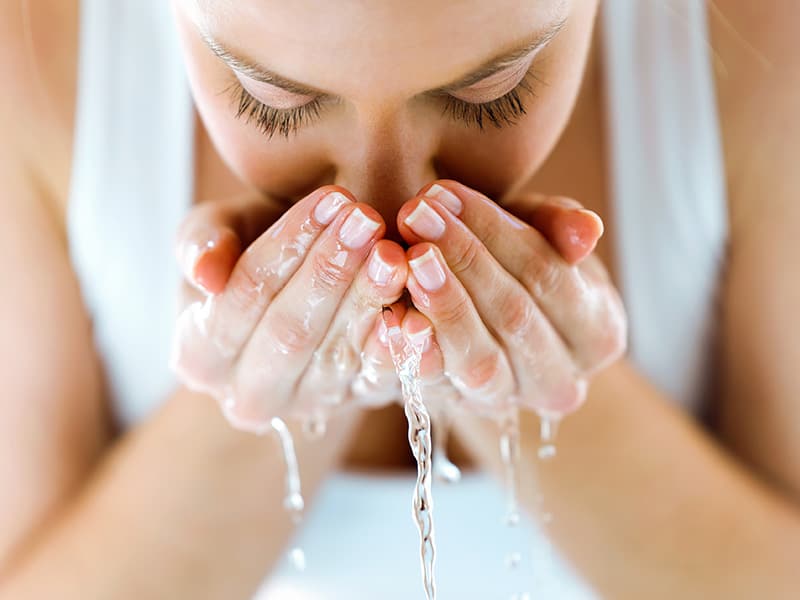 How often do you get an ultrasound face clean?
Patients with healthy skin only need once a month. For the problematic: at the beginning once a week (depending on the severity of 2 to 8 times), and when a positive effect is achieved, these intervals are lengthened to 1 time per month.
No preparation for face cleansing is required. If an important event is planned (a celebration or a trip), then make an ultrasound face cleansing in advance: for relatively good skin condition in 2-3 days, and for heavy – no later than 7-10 days to the skin to be able to recover.
At what time of year do the facial cleansing
Ultrasonic cleaning refers to all-season procedures. Use creams with SPF (sunscreen) during the sun's activity. After the ultrasonic cleaning it is recommended not to wash up to 8 hours, during 1 day exclude physical exercises and thermal exposure (baths and saunas), use external products after 8 hours in agreement with a doctor. When visiting the solarium, cover your face with a towel. If you want to sunbathe with your face (but it is harmful – it leads to photo-aging of the skin), then wait at least a week, or preferably more.
Lip and eye make-up can be applied immediately after the procedure. But from the imposition of tonal means is better to abstain 8-24 hours. Cosmetologists use professional cosmetic products, which can be used immediately after cleaning, and after peeling. These products simultaneously restore the skin and mask the traces of ultrasound cleaning. You can't buy them in regular shops and pharmacies.
The ultrasound facial cleansing procedure is affordable, so there is no reason to put yourself at risk or to do the ultrasound yourself or at home!